Biopower
In a biopower plant:
Heat is created: Biomass (sometimes co-fired with coal) is pulverized, mixed with hot air, and burned in suspension.
Water turns to steam: The heat turns purified water into steam, which is piped to the turbine.
Steam turns the turbine: The pressure of the steam pushes the turbine blade, turns the shaft in the generator, and creates power.
Steam is turned back into water: Cool water is drawn into a condenser where the steam turns back into water that can be reused in the plant.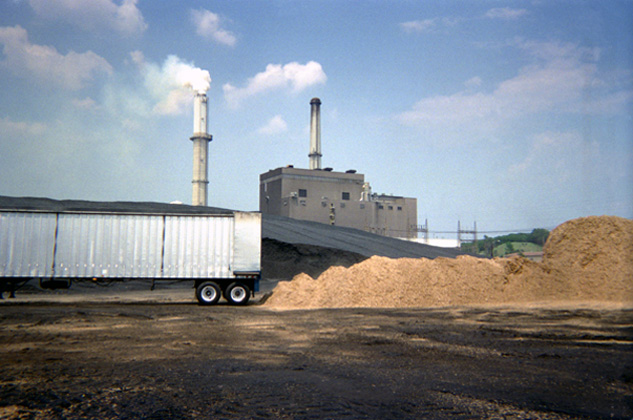 Joseph C. McNeil Generating Station in Burlington, Vermont
(a biomass gasifier that operates on wood chips)
Photo by David Parsons, NREL 06905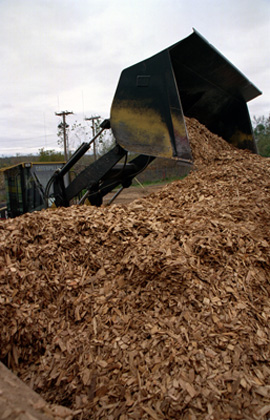 NIPSCO generating station
Photo by Kevin Craig, NREL 08928
Renewable energy technical potential, as defined by Lopez et al. 2012, represents the achievable energy generation of a particular technology given system performance, topographic limitations, and environmental and land-use constraints.Technical resource potential for biopower is based on estimated biomass quantities from the Billion Ton Update study (DOE (2011)).
References
DOE (U.S. Department of Energy). 2011. U.S. Billion-Ton Update: Biomass Supply for a Bioenergy and Bioproducts Industry. Perlack, R.D., and B.J. Stokes, eds. Oak Ridge, TN: Oak Ridge National Laboratory. ORNL/TM-2011/224. August 2011. https://www.osti.gov/scitech/biblio/1023318.
Lopez, Anthony, Billy Roberts, Donna Heimiller, Nate Blair, and Gian Porro. 2012. U.S. Renewable Energy Technical Potentials: A GIS-Based Analysis. National Renewable Energy Laboratory. NREL/TP-6A20-51946. http://www.nrel.gov/docs/fy12osti/51946.pdf.