Coal
In a coal power plant:
Heat is created: Coal is pulverized, mixed with hot air, and burned in suspension.
Water turns to steam: The heat turns purified water into steam, which is piped to the turbine.
Steam turns the turbine: The pressure of the steam pushes the turbine blade, turns the shaft in the generator, and creates power.
Steam is turned back into water: Cool water is drawn into a condenser where the steam turns back into water that can be used over again in the plant.
The process outlined above is adapted from Duke Energy ("How Energy Works"). Coal plant emissions and performance are also impacted by the kind of coal (coal rank) that the plant burns. Lignite, subbituminous, bituminous, and anthracite coal are all of varying quality. The amount of moisture, sulfur, and ash in a particular type of coal can have significant influence on coal plant operation, design, and cost.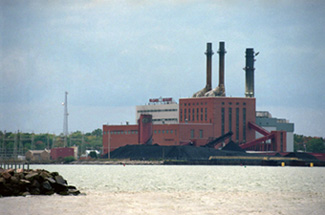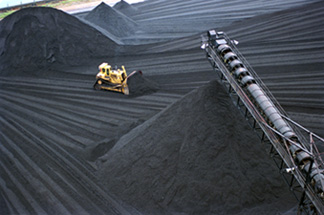 Niagara Mohawk's Dunkirk steam station in New York
(soon to be set up for cofiring biomass)
Photo by David Parsons, NREL 06705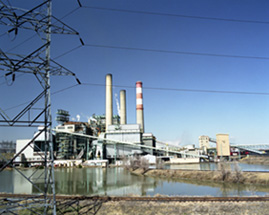 Electrical transmission lines in front of coal-fired power plant
Photo by Warren Getz, NREL 10933
Renewable energy technical potential, as defined by Lopez et al. (2012), represents the achievable energy generation of a particular technology given system performance, topographic limitations, and environmental and land-use constraints. Technical resource potential corresponds most closely to fossil reserves, as both can be characterized by the prospect of commercial feasibility and depend strongly on available technology at the time of the resource assessment. Coal reserves in the United States are assessed by the United States Geological Survey (USGS, "Coal Assessments").
References
Lopez, Anthony, Billy Roberts, Donna Heimiller, Nate Blair, and Gian Porro. 2012. U.S. Renewable Energy Technical Potentials: A GIS-Based Analysis. National Renewable Energy Laboratory. NREL/TP-6A20-51946. http://www.nrel.gov/docs/fy12osti/51946.pdf.